Outdoor Living

Outdoor living spaces are places where you can gather to appreciate your landscape and enjoy your friends and family.
There are many facets to our landscapes—they're for relaxation, edible gardening, socializing, playing with our children or pets, and so much more. Here you'll find information on everything in our yards besides plants.
Outdoor Living Spaces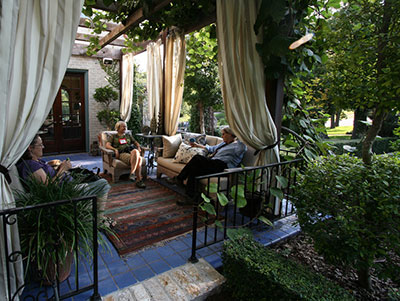 An outdoor living space can take many different forms. It can be a few chairs around a fire bowl, a poolside gazebo, or a deck with a barbeque grill. It should have places to sit and tables for beverages and snacks. Think about when you'll be spending time in the space. Do you need lighting? What about shade? For privacy, plant a hedge or a vine growing on a trellis.
Patios
Patios are a wonderful way to expand your home into the backyard. These typically open-air, paved spaces can be a place to relax, hang out, or even cook.
Think about what floor material you want to use for your patio. There's concrete, or something a little different like bricks, pavers, or flagstones. Determine your power needs for reading, cooking, or lighting the garden, and plan accordingly.
If you have a barbeque grill, chiminea, or other fire component, decide where you'll place it. If you'll spend time on the patio during the day, you'll probably want some shade from a tree, umbrella, or pergola.
Decks
Decks can provide you with the perfect perch. It's a good solution to sloped landscapes or uneven ground that would prohibit a patio. You can build one yourself in a few weekends, or hire a professional to do the job for you.
Decks are traditionally built out of wood that's pressure treated or naturally decay-resistant, and must be sealed. But many decks are now built using composite lumber made of wood fiber and recycled plastic, which doesn't require as much maintenance. Vinyl and all-plastic decking are also available.
Outdoor Kitchens
If you have the room, an outdoor kitchen can make your garden an even better spot to entertain and increase your home's value.
An outdoor kitchen can be as simple as a patio area with a few comfortable chairs and an outdoor grilling area. Or it can be a luxurious freestanding structure that houses a sink, a full-size refrigerator, and even a brick oven.
Simpler versions typically rely on propane-powered grills to handle the cooking duties. Larger kitchens can be more complicated to build and may require you to install electrical and water lines. Be sure to consult the building code or hire a licensed contractor.
Furniture
An important thing to consider is furniture. Outdoor furniture allows you to fully enjoy your landscape and to express your individual decorating tastes. There are plenty of styles to choose from, like Mediterranean or English garden, making it easy to find furniture that matches your gardening style.
Look for materials that will stand up to the weather over time. Wrought iron, aluminum, teak, and some types of wicker are good materials because they withstand rain and humidity better than others. Choose outdoor fabrics like polyester or acrylic that won't rot or fade, and cushions that are stuffed with polyester so they will drain and dry quickly.
Seating in the garden can take any number of forms. Table and chair sets can create a space for eating or just hanging out. Benches made from wood, iron, or concrete are traditional favorites. And low retaining and garden walls can double as seating areas. Provide adequate seating for your guests or just you and your family, if you want a more intimate space.
Place your seating where it won't be in the way of other landscape uses, and will provide a nice view. You may want to have it near fragrant plants or near water for a heightened experience.
Lighting
Lighting can provide ambience to your landscape, while adding safety and value to your home. Lighting along walkways and driveways can provide visual guidance, while uplighting trees and plants adds drama. There are many energy-efficient options, including LED and solar lights. These options will not provide the intense light of traditional bulbs, but will last longer, cost much less, and are often easier to install.
Solar lights use cells to convert sunlight into electricity, which is stored in batteries to illuminate the lights when it gets dark. While solar lights will work in almost any landscape, fixtures should be placed where they'll get adequate sunlight. When installing your solar lighting, watch out for any landscape features, like vines, shrubs, or trees, that may obstruct or filter sunlight. And keep your solar lights clear of dirt, bird droppings, and anything else that may keep sunlight from reaching the units. Most solar lights have no wires, and all are easy to install and maintain and will pay for themselves with energy saved.
Unique lighting can also make the outdoors look like the indoors. Look for products that have an all-weather light bulb and shades that are waterproof and washable.
If you need help regarding your landscaping, we at Garden Services are fully licensed & insured to handle all your irrigation, landscaping, lawn maintenance and tree service needs whether it's a residential, commercial landscaping or homeowner association property. If you ever have any comments or questions, please don't hesitate to call or email me and I'll be happy to answer any questions that you might have. Special thanks to UF/IFAS extension for some helpful information provided in this post. Until next month Happy Gardening!