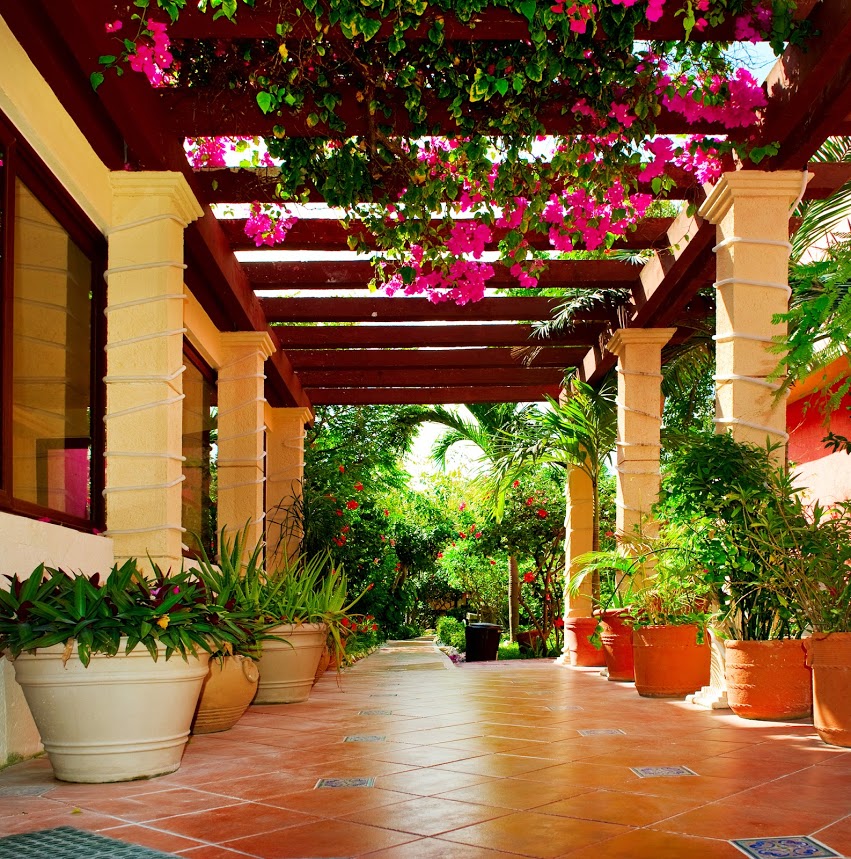 If you've lived in Florida for a while, you've probably seen bougainvillea growing in yards near your house. Bougainvillea is a popular plant with many good qualities. Whether you're looking for an easy to maintain shrub or something to cover a desolate, barren spot in your yard, bougainvillea is an excellent choice. Here's what you need to know. 
Typical Appearance
Bougainvillea is a fast growing shrub that produces tiny, unnoticeable flowers and colorful bracts that are often mistaken for flowers. Bougainvillea grows in an unruly, cascading fashion and may reach up to 20 feet in length (or height, if trained to grow upward).
It cycles in and out of blooming periods, with blooms lasting several weeks at a stretch. Bougainvillea comes in varying colors, including white, pink, purple and orange.
Growing Conditions
Bougainvillea is a native of South America, but it thrives in Florida where it likes heat and sun. Once it acclimates to a location, it needs little water in order to thrive. When planted in low-light conditions, bougainvillea may not bloom. This is a common problem among homeowners who bring their bougainvillea indoors.
Plant Benefits
Lots of people grow bougainvillea for three reasons:
Beautiful. Bougainvillea is a large, tropical plant that draws the eye when in bloom.
Easy to maintain. Once trained to grow on a wall, bougainvillea needs little help doing what it does best: growing and blooming.
Drought-resistant. Bougainvillea only gets more beautiful as growing conditions becomes hotter and dryer, so these plants require virtually no extra watering.
Some homeowners also like that they can easily train bougainvillea to take nearly any shape they want. In fact, in the hands of a skilled landscaper, bougainvillea can be grown into a lovely tree.
Additional Considerations
Many types of bougainvillea have large, merciless thorns, which can make pruning an adventure. To prevent torn clothes and accidents, keep bougainvillea out of high traffic areas. If you have children, keep this plant out of play areas.
Although it is easy to grow and simple to maintain, bougainvillea is not invasive or aggressive, so homeowners who want to keep it contained to a relatively small area can do so as long as they stay on top of pruning.
However, too much pruning of bougainvillea removes the colorful bracts and detracts from the beauty. Homeowners who don't know how to prune bougainvillea without maintaining the colorful bracts can turn to a landscaper for help.
Ideal Locations
Bougainvillea is a spreading plant that will crawl along the ground if it is not supported or trained to grow upward. Many homeowners plant bougainvillea against walls and trellises, then tie the plant to the wall or trellis until it is able to hang on to the wall on its own. It does not vine, so unlike plants like morning glories, bougainvillea needs help in order to grow upward.
Bougainvillea is best planted in an area where there is much room to grow. Pick a spot either around the perimeter of the home or in a corner where not much else can be found. Since bougainvillea also likes a lot of sun, western and southern exposures are best.
Bougainvillea is an excellent plant to grow on your Florida property, especially if you like large, chaotic plants with a tropical vibe. Work with your landscaper to pick the best spots on your property for a new bougainvillea plant.
For more information about how to grow bougainvillea on your property, or for more information about other plants that grow well in Florida, contact Garden Services. We'll be happy to answer your questions and provide friendly advice about residential landscaping.