Vacation Plant Care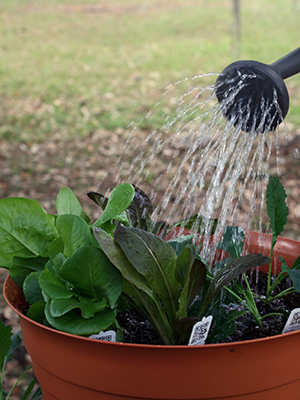 As a gardener, you work hard to lovingly care for your plants and landscape; unfortunately you can't pack up your little green darlings and bring them on your vacations with you. However, with a little planning and preparation your plants will remain healthy while you enjoy your adventure away.
Possibly the most important consideration is your plants' water needs. Before you leave, give your plants a good, deep watering. Make sure that you apply enough water to wet the top 12 inches of soil which is where most roots reside. This will allow the roots to take up as much water as they can before you go off on vacation.
One way to be sure your plants stay well-watered is to schedule your automatic irrigation system. Per Florida law, the system should have a rain sensor so that your plants don't receive unnecessary irrigation. If you can, have someone check in at least every few days to be sure everything is running smoothly. If you don't have an automated system, you can purchase a timer for your hose-end sprinkler. Whichever option you choose, make sure you only schedule waterings for the times and days allowed by local ordinances.
Checking the mulch in your landscape is another way you can help keep your plants from drying out while you are away. You may want to consider adding mulch to any landscape beds that have none. Mulch helps the soil retain moisture and insulate roots from high summer temperatures, which will be particularly helpful while you aren't around to monitor your plants and soil.
It's also helpful to group container plants together. This does double duty, as a time-saver for anyone you have stopping by to water your plants, while also helping the plants conserve moisture. Grouped containers of plants will conserve water better than containers spread out across your porch or landscape. Containers should also be moved to a shady place. Mulch can be added to potted plants to conserve moisture in the same way it is used in landscape beds.
While you're at it, don't forget the lawn; if you are going to be gone for more than a week, you will want to arrange for someone to mow the grass. No matter how long you will be gone, try to mow the day before you leave.
Having someone care for your indoor and outdoor plants is a good idea, but another option is self-watering containers. This way, even if you can't find a plant-sitter, you can still be worry-free when you leave town. These containers allow plants to take up water as needed. Move houseplants away from warm windows to a place where they receive indirect sunlight. For plants not in a self-watering container, installing a saucer beneath them is another option.
With a little planning and prep work, your plants—inside and out—should be green and happy when you return from your travels.
If you need help regarding your landscaping, we at Garden Services are fully licensed & insured to handle all your irrigation, landscaping, lawn maintenance and tree service needs whether it's a residential, commercial landscaping or homeowner association property. If you ever have any comments or questions, please don't hesitate to call or email me and I'll be happy to answer any questions that you might have. Special thanks to UF/IFAS extension for some helpful information provided in this post. Until next month Happy Gardening!