As the holidays come upon us, when people are thinking about gifts, what better gift to give than a potted plant? A plant in a beautiful container is a thoughtful and creative gift. And it's actually two gifts in one. Finding a beautiful container can make it even more personal. Plants make beautiful gifts that continue long after the holidays are over. Christmas cactus and poinsettias are very popular as holiday gift plants. Amaryllis,  rosemary topiaries, and even ornamental peppers can make great gifts as well. When selecting a plant, make sure it has healthy foliage and that no roots are coming out of the pot (root bound). If you are purchasing a flowering plant, try to select one that hasn't fully bloomed yet. Always be sure to include care instructions. This year instead of buying a Frazier fir or traditional tree why not consider a Christmas tree that will live on after the holidays. Southern red cedar, Florida bald cypress, or sand pine can be enjoyed in a container and then planted in the landscape when the holidays are over. Living Christmas trees create memories that last a lifetime. As an added bonus you can decorate the planted tree with suet, bird feed, or popcorn balls to encourage birds to nest and enjoy the tree, too..
Mistletoe
Watch who you kiss under that mistletoe, it could be more harmful than you realize.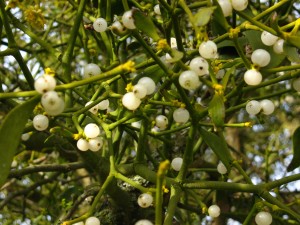 Mistletoe has been used as a Yuletide decoration for centuries. In Scandinavian mythology, mistletoe was a symbol of peace. These traditions and beliefs were adapted by the English and French, giving us the holiday custom of kissing under mistletoe bunches. Hanging mistletoe is a Chrismas tradition in the U.S., while in Europe, it is more commonly associated with New Year's Eve. But this plant can be dangerous, and not just for people. Mistletoe is poisonous if eaten, so be careful if you choose to use it for holiday decorating. It's also damaging to the trees it grows on. Because of its parasitic nature, mistletoe can weaken or even destroy the trees it infests, especially if the tree has been compromised by pests or storms. Mistletoe's distinctive green leaves, stems, and white berries—each with a sticky seed inside—are easily recognizable. As a small seedling, it roots into the bark and wood of a tree and makes a connection with the growing ring of the host. Although mistletoe makes its own food, it steals water and nutrients from its host tree. Mistletoe is poisonous if eaten, so be careful with your holiday decorating. In Florida, mistletoe is most commonly found in laurel oaks. Other known hosts include elms, hackberries, sycamores, and wild cherry trees. Extreme care should be used when handling the mistletoe.
Making Decorations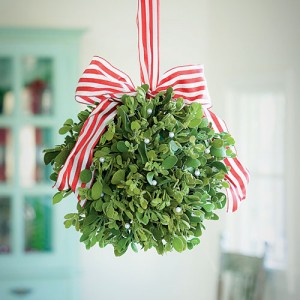 Once you have cut mistletoe out of the trees in your yard, consider making holiday decorations from the pruning. Refrigerating fresh cut sprigs will help keep them fresh until you are ready to prepare them for decorative use. Use thin florist wire to wrap the ends of short mistletoe cuttings. Add ribbons for color, and your mistletoe is ready to hang over a doorway. Mist the sprig daily to keep it looking fresh. After handling mistletoe plants, wash your hands thorougly hot, soapy water. Do not hang mistletoe directly above heaters, stoves, fireplaces, or any other heat-producing elements. Mistletoe hung in these locations will dry out much faster and also create  a fire hazard.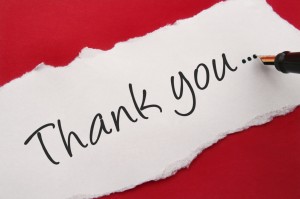 As we close out another year, I would personally like to "Thank-You" for all your great questions and responses to my articles that you've asked of me over the past year. I only hope that they may have addressed some of the problems that we are exposed to in South Florida landscapes. I would like to wish you and your families Happy Holidays & all the best of health and happiness in the New Year.
If you need help regarding your landscaping, we at Garden Services are fully licensed & insured to handle all your irrigation, landscaping, lawn maintenance and tree service needs whether it's a residential, commercial landscaping or homeowner association property. If you ever have any comments or questions, please don't hesitate to call or email me and I'll be happy to answer any questions that you might have. Special thanks to UF/IFAS extension for some helpful information provided in this post. Until next month Happy Gardening!