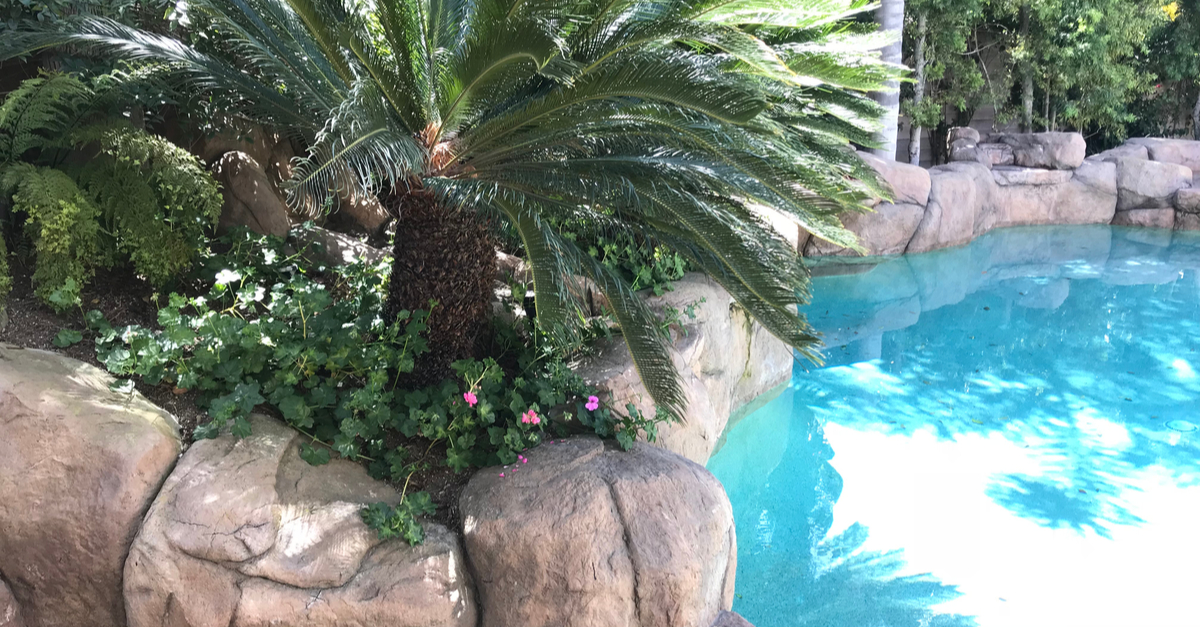 Are you looking for fresh ideas for landscaping around your swimming pool? Whether you're a green-thumb-guru or a newbie landscaper, you can transform your backyard into a nature-inspired sanctuary. Your pool area can be a relaxing escape, a space for entertaining friends and family or a delicious playground for kids of all ages.
Are you excited to get your landscaping mojo going? Then, let's do it!
Design your Landscaping Plan
In the beginning, pick a theme hint: Tropical Celebration. Landscaping design done right can supply the ideal milieu for your pool. Plush palm trees boost the tropical theme. A gracious plenty of vivid colored flowers with lavish greenery provides a Caribbean touch.
Show your Love of Nature
Clever placement of natural rock can integrate your pool landscaping with the local ecosystem. A waterfall constructed from rocks will dispense tranquil sounds to meditate by.
Choose Right Plants
Hawaiian hibiscus and birds of paradise will help manifest your tropical celebration. Feathery ferns and big-leafed plants provide a nice contrast. Intersperse banana trees with palms. Plant ornamental grass for texture, e.g. Red Fountain Grass. Either plant them around the border of your pool area or strew several statement planters around to show your style.
Show your (Tropical) Colors
Nearby your pool, bigger isn't always better. Big blooms can be slippery and staining when they drop in the pool area. Plant flowers away from edge of pool, so leaves and flowers won&'t fall into the pool.
Examples of tropical plants:
Bird of Paradise
Dazzling orange birds of paradise flowers look like a brilliant-colored bird in flight. Their large leaves, shaped like paddles create negligible litter, making this tropical plant ideal for the area around your pool. Birds of paradise crave water. Otherwise, they only require minimal attention, i.e. removal of stalks when flowers wilt.
Note: If you want a living privacy fence around your pool, choose the white bird of paradise. When it reaches maturity, it will be more than 20-feet tall.
Xanadu Philodendron
A sweet grower, they form into a billowing green cushion and make an excellent backdrop for vividly-colored tropicals. A great bug deterrent, as portions of this plant are toxic when ingested.
Tropical Hibiscus
The glowing colors of the tropical hibiscus – pink, orange, red, yellow or purple – beckon butterflies and hummingbirds. Capable of blooms 6-8″ in diameter, the tropical hibiscus is a classic choice for your pool landscaping. Just for grins, experiment with bi-colored hibiscus, such as the red and pink Peppermint Smoothie.
Dahlias
These may be the perfect flowers to plant in your large statement pots. They bloom for-almost-ever, producing stunning pink, bronze, lavender, red, orange or pink flowers. Dahlias are symbolic of: positive change, inner-strength, kindness, commitment and remaining graceful.
Red Fountain Grass
A striking accent plant for landscaping around your pool, its reddish-burgundy bottlebrush plumes and leaves grow six-feet tall. In the fall, its plumes take on goldish highlights. Grasses bring motion and texture to your pool landscaping.
Native Florida Succulents
Succulents retain water in their roots, stems and leaves, so that they need little to no watering. Consider them accessories for around your pool, like a woman's purse.
Jelly Bean Plant
Jelly Bean plants are like living bubble wrap; you can squash their red tips to relieve stress. This native Florida succulent produces little yellow flowers, shaped like stars, with leaves shaped like jelly beans. Plant them a few feet from the pool and let the leaves fall where they may. Soon a new plant will sprout up from the leaves.
Final Thoughts
If you get discouraged, you may have bitten off more ambition than you can chew. Just contact Garden Services to engage a landscaping design professional. He will encourage and respect your landscaping ideas for around your pool.
Garden Services welcomes your questions and concerns about landscaping around your pool. Phone (954) 680-8100 or E-mail info@GardenServices.us