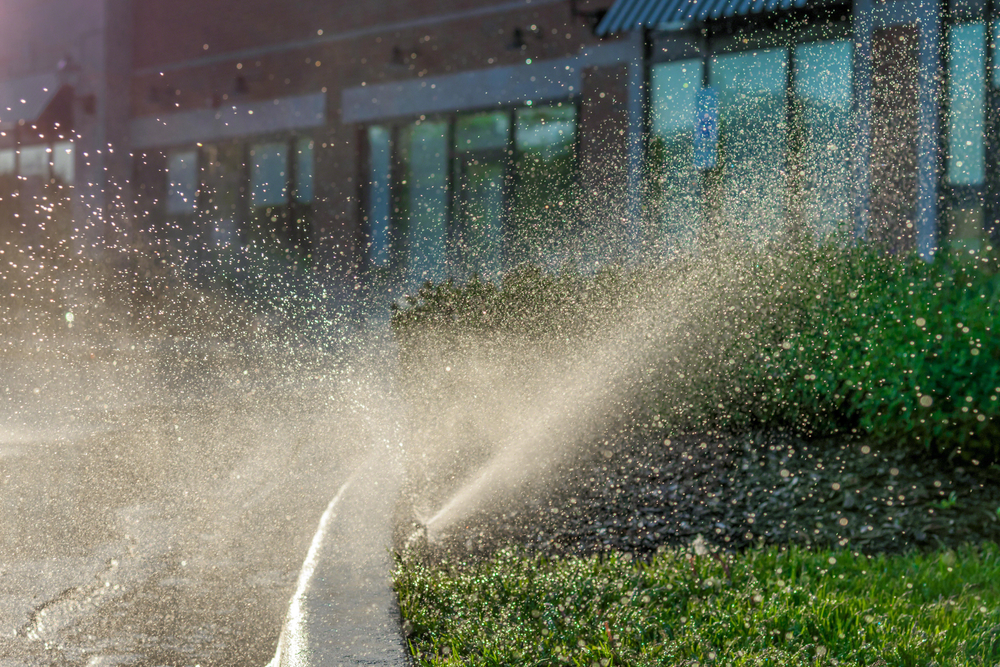 Especially in the hot South Florida summer, you may think that by conserving water you will be sacrificing the turf and landscape on your commercial property. The truth is—water conservation with a well-maintained irrigation system is actually a benefit to your property's plants and lawn.
Smart Irrigation
In South Florida, as you probably know, you struggle to lower the water bills, the county demands you to use your irrigation system only on certain days, and you also need to keep your property looking lush and green.
By utilizing these 10 tips, you can have a more beautiful property while at the same time, lowering your monthly water bills and meeting your county's water ordinances:
Request a water audit. First, hire a commercial landscape company and request a complete water audit of your property. This audit spans your entire property and the reach of your irrigation system. You will receive a report outlining exactly where your water goes and if it is properly irrigating your property.
Monthly maintenance should be a priority. You should contract with your landscape company to check on your property's irrigation system on a monthly basis. Your landscaper will do wet checks which includes inspecting your system's nozzles, cleaning various parts and ensuring that everything is in working order. Also, your landscaper will check your sprinkler system to ensure water is reaching the areas that need it—not sidewalks, parking lots, or the street.
Irrigation is only one aspect of a great looking landscape. As far as plants go, South Florida is a great place due to summer rainfall. Our seasonal summer showers help keep everything well-hydrated, which means your irrigation system is there as a means to provide water on the days and weeks when we didn't get much rain.
Audit your plants. Your property's well-established palms, trees, shrubs, and flowering plants do not require as much hydration as new plants do. Have a plan to adjust your sprinkler timers to deliver less water to those areas. And if you are in the planning stage, be sure to allow your landscape contractor to design and install a landscape that's water conscious.
Consider reclaimed water. If your commercial property such as a sports field, condo community or school is near a non-potable water source, consider having your irrigation system connected to it. You'll not only save money on your water bills, you will conserve water at the same time. Reclaimed water is quite safe and smart to use on playing fields, turf and landscapes. In South Florida, our wastewater treatment plants have advanced treatment programs to rid the water of all contaminants to ensure the water used for irrigation is nearly safe enough to drink. It doesn't have a foul smell and it will not make anyone sick if they come in contact with it.
Ask about re-calibrating an older irrigation system. If your budget allows it, consider having your sprinkler system retrofitted to utilize the newest irrigation system upgrades. This may include moisture sensors, timers and other smart technology that all work simultaneously to decrease the length of time your irrigation system needs to stay on—saving you money over time.
Ask about hydrozones in your landscaping. If your property's landscape isn't already in hydrozones, you may want to consider investing some of your budget to have it redesigned and reinstalled. Hydrozoning in landscaping is a way of grouping plants together that need the same amount of water. A water wise landscape doesn't pair annuals with drought-tolerant plants since annuals need more water to get established. You can also ensure your native plants won't develop root rot and other common plant diseases due to getting too much water.
Use mulch. You will ultimately use decreased amounts of water if your landscaped beds have mulch. Mulch has the benefit of holding in moisture longer and it provides additional nutrients and plant protection.
Water early in the morning. Be sure your irrigation timers are set to turn on between 4 a.m. and 10 a.m. This is a benefit to your landscape and lawn since the water has a chance to absorb down to the roots before the sun gets too hot and high in the sky. Also, you can set your timer to finish irrigating the property well before any customers start to show up for the day.
Turf and landscape thrive with infrequent, deep watering. Despite what most people think, using a method of infrequent, deep watering benefits your plants more than giving them a light sprinkle every day. In addition to conserving water with infrequent irrigation, allowing your sprinkler system to stay on for longer periods of time gives the type of deep watering plant roots need to move downward—which results in longer-lasting, healthier plants.
How Can Garden Services Help You?
Our irrigation specialists will perform a water audit when we partner with you to maintain your property's landscape. After the audit is complete, we'll work with you to create a long-term plan to maximize your irrigation system usage and its overall reach throughout your property. Our team can also provide you with water zone maps and logs.
In addition, we will perform regular wet checks. This is when we evaluate your irrigation system for coverage and pressure. We can make recommendations to improve your system, clean its parts and let you know of anything that is broken and in need of repair such as valves, lines or nozzles.
We can also retrofit your irrigation system to integrate new technology and consistent sprinkler heads and nozzles. If your system is still using an analog or pneumatic clock, we can change it to a digital one for better accuracy.
Are you ready to implement these smart irrigation techniques to conserve water and save money on your water bills? If you're a South Florida business, school, park, apartment complex or any other commercial property, call us at 954-680-8100.